Union Lager
5.0%
Brewed for enjoying after a hard days work. Easy drinking, but filled with flavor.
River Cream Ale
5.4%
Our light, crisp smooth-drinking cream ale. Crafted for those smooth days floating down the river.
Ray's Citra Pale Ale
5.6%
Single hopped, super-citrus pale ale. Based on a traditional old school pale, but with a "twist."
Bluff Session IPA
5%
It's no bluff: this unfiltered session IPA is seriously dry-hopped with Citra. Melon, berry, citrus come from Ekaunot, El Dorado, Citra, Mosaic, and Centennial hops.
Avenue APA
5%
A hoppy American Pale Ale you can enjoy all day or in the afternoon. The Avenue Brewery was an original in our building. Simcoe, Nugget, & Cascade Hopped.
Speedliner IPA
7.0%
Mosaic & citra hops make this killer IPA juicy and delicious. Clean as the lines on a boat.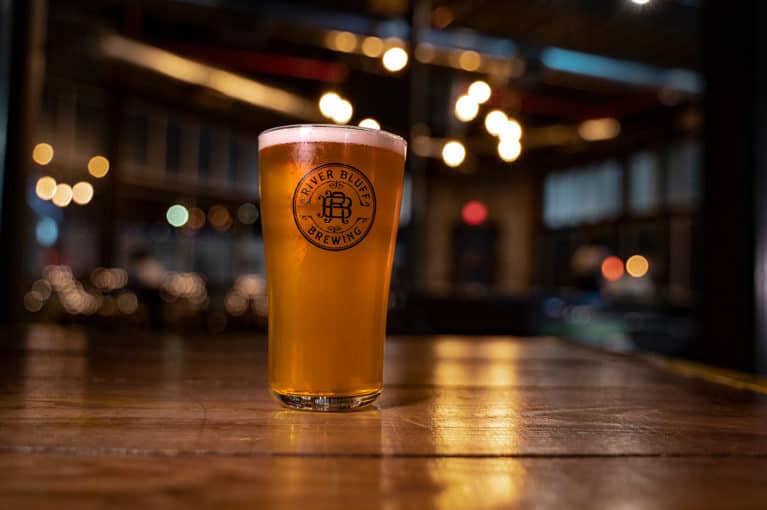 Sandy Dunes Saison
8.0%
No matter how sandy the dunes in your mouth, this peppery, fruity, unfiltered Belgian style ale will be sure to wet your whistle.
Autumn Red
6.5%
A malty dark red amber ale balanced by a hefty addition of rye. The autumn red is perfect for watching the leaves turn on a brisk fall day.
Savior Bock
6.7%
157 years ago the first Bock in St. Joseph was brewed right here at 1224 Frederick Ave. This is in honor of our forefathers.
Jerry's Porter
6.5%
Named after Joetown's own Goetz icon— Jerry's smile. This porter pours chocolate and coffee.
Blacklion Irish Stout
4.2%
A Dry Irish Nitro Stout inspired by our Irish ancestors. The mouthfeel is creamy from the nitro, and the taste is roasty with a twinge of sweet. Tap of the Mornin' to Ya!

Anonymous Blonde
4.6%
Light but full of flavor, this Blonde is dry hopped with the infamous Nelson Sauvin hop which adds a nice dry-wine flavor.

Upstream Wheat
4.8%
This hibiscus wheat brewed with orange peel pours a beautiful pink. It's unfiltered and hits your taste buds delightfully in different locations. Swim Upstream.

13th Street Hybrid
5.4%
A refreshing & crisp midwest hybrid beer invented right here on 13th Street. Dry hopped with Hallertau Blanc.